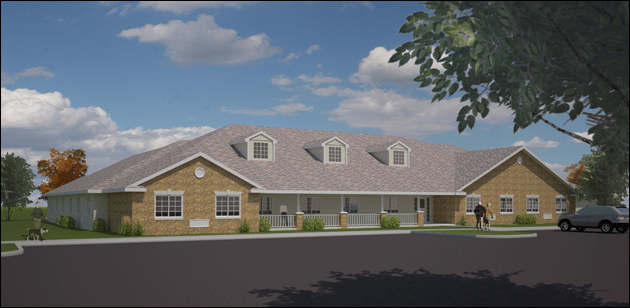 We are excited you are considering Redbud Estates as your new residence. Redbud Estates Assisted Living has been designed with your needs in mind with a variety of lifestyle, service and care options.
Redbud Estates is licensed as a 12 bed, Assisted Living residence specifically designed for elders who need some assistance with daily living, but do not need around the clock nursing care. We will provide 24- hour round the clock staffing that is tailored to the individual needs of each resident. A comprehensive assessment prior to admission will help us to determine the appropriate level of support to best meet your needs. It is our goal to help you maintain your independence and freedom of choices as you desire.
What amenities will the building offer?
1 Bedroom private or companion suites of 450 sq. ft. complete with bathroom with roll-in shower and a large closet
2 Bedroom private or companion suites of 673 sq. ft. complete with bathroom with roll-in shower and large closets
Wall-to-wall carpeting
Emergency call response system in each suite
Variety of comfortable community areas, including:
Elegant community dining room
Private dining room for family or guests
Front & back porches with patio
Media, television and living room areas
Beautifully manicured landscaping and gardens
Outdoor areas to walk and relax in
Comfortable quality furnishings and artwork
Fire safety system
All utilities, phone, Internet access, and cable televison (monthly phone and Internet not included in basic rate)
What services will be offered in the basic rate?
Three delicious, well-balanced meals served daily
Snacks available throughout the day
Bi-weekly housekeeping and daily trash removal
Weekly personal laundry and linens (except dry cleaning)
Social, educational, devotional and recreational programs
Scheduled group transportation
Daily afternoon socials
Trained staff available 24 hours a day
Maintenance of building and grounds
If I need additional help, will care be available?
Yes. We understand that each resident is an individual with unique needs and preferences. That's why we meet with residents and family and conduct an assessment - prior to move-in and at regular intervals after move-in - to understand the need for assistance and support in the following areas:
Personal hygiene and grooming
Showering or bathing
Dressing and clothing selection
Socialization and activities
Medication coordination
Mobility and transferring
Continence management
Monitoring of safety
Assistance with eating
This assessment helps determine the appropriate care and service that preserve each resident's dignity, encourages independence and best enables freedom of choice. Upon completion of the assessment, a team comprised of the Administrator and nursing staff prepares an individualized service plan that is monitored on a daily basis. There may be additional charges for these services depending upon the level of need.
Should your care needs change over time, you can rest assured in knowing that those services are available in our attached nursing facility.
Can I bring my car?
Yes, there are limited parking spaces available on the grounds.
Can I bring guests and families for lunch?
Absolutely! Our approach is to make this your home, so families and friends are encouraged to join you in the dining room. There is a small meal charge for guests.
For further information, contact our administrator.